Aligni is all about improving your operational intelligence. That means you can make better decisions faster.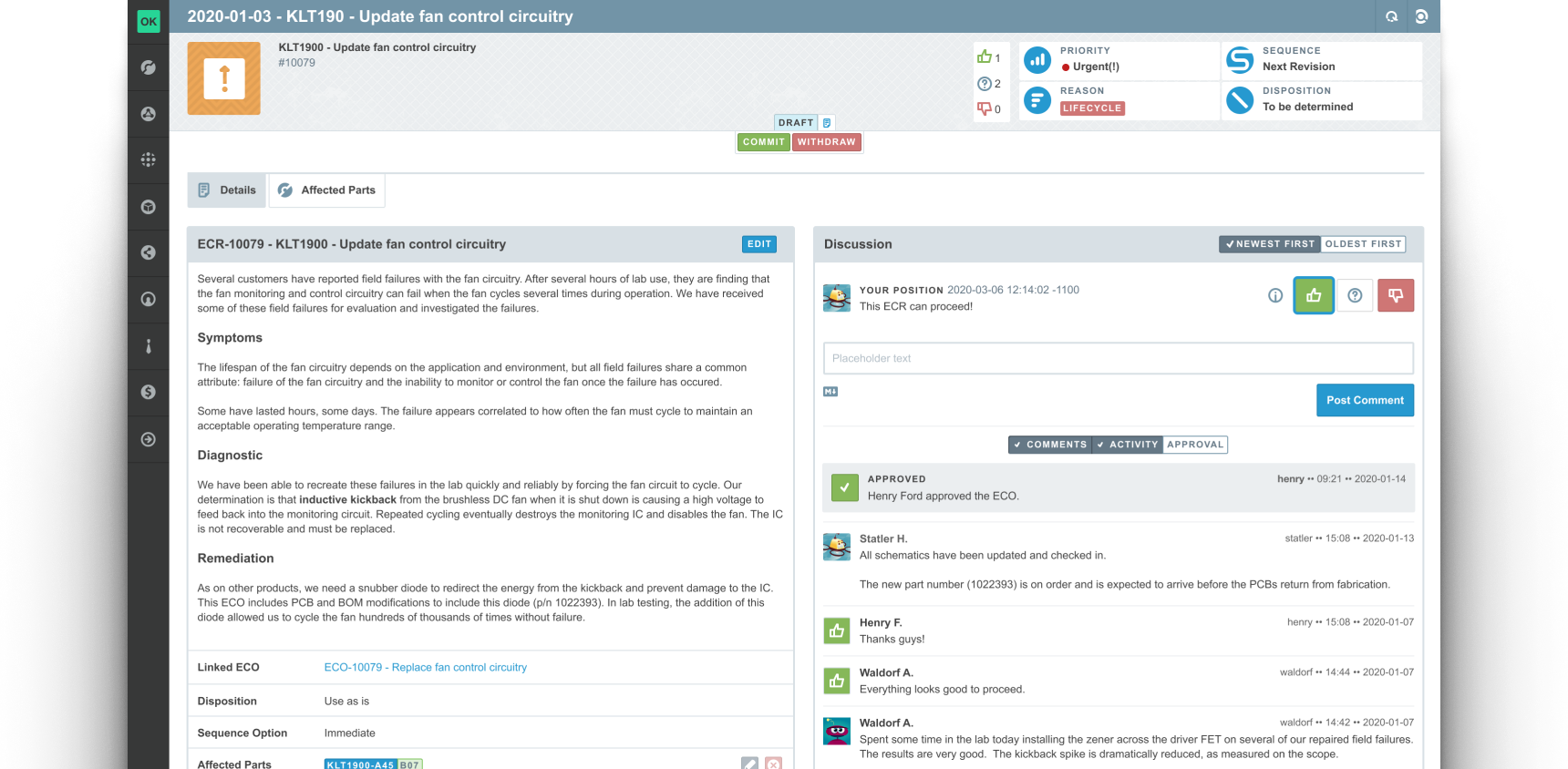 Join 100's of teams that have used Aligni to make great things… better!
Efficiency to the Max
A Single Source of Truth
Implement a cloud-based single source of truth for all your electrical and mechanical components. Streamline collaboration and gain a competitive advantage with better operational efficiency and faster time-to-market.
Collaboration Everywhere
Streamlined Collaboration
Streamline internal collaboration and improve communication with external parties with Aligni's modern, cloud-based tools.
SUPPLY CHAIN MASTERY
Powerful Purchasing Tools
Manage vendor relationships through Aligni's vendor portal while tracking purchases and RFQ's through our ActiveQuote system. Aligni helps you build insights by using your historical purchasing data to make informed decisions. Our integrated material shortage reporting system helps you stay in front of reorders before stockouts happen.

Coordinate with vendors through your own branded vendor portal for efficient quoting and purchasing. Develop actionable insights and make more informed decisions with comprehensive histories of vendor performance, quoting, and purchasing data.
You will be in good company
Choose the Right Aligni for You
PLM
Build the product, not the process.
Implement a cloud-based single source of truth item master for all your electrical and mechanical components.
Streamline internal and external collaboration to improve efficiency and quality.
Satisfy regulatory compliance requirements.
Gain a competitive advantage with better operational efficiency and faster time-to-market.
Explore PLM
MRP
Make better decisions, faster.
Get the most out of inventory management with Aligni.
Understand historical demand for your assemblies and their components.
Schedule builds to forecast requirements and keep sourcing running smoothly.
Operational intelligence improves operational efficiency.
Explore MRP
What is PLM?
Product Lifecycle Management (PLM) is an approach to product development that motivates you beyond a mere tabulation of the parts on assemblies to a full-scale engagement with the living story of the evolution of your products.
Much more than a two dimensional bill of materials in a lifeless spreadsheet, PLM hosts a universe of connected data where every part's history is recorded with usage, change history, supplier quotes, lead times and availability, purchase history, inventory, and builds. The operational intelligence created by a properly curated PLM system is unrivaled.
What is MRP?
Material Requirements Planning (MRP) is the process by which an organization manages the procurement of the materials required to build their products. Every manufacturing organization exercises this to some extent, of course, but the tools used to execute this process vary from simplistic (spreadsheets, Quickbooks) to highly advanced automated systems operating with minimal human involvement.
Aligni falls comfortably in between PLM and MRP — ideal for companies with limited resources but a need to stay engaged and in control. Well-executed MRP means lower inventory overhead, shorter assembly lead times, and fewer line-down situations.
Dive deeper into what Aligni can do for your operations
Need Support?
Your Aligni environment has a lot of moving parts. You need everything to be in the right place, at the right time, and accurate. If you have questions, our illustrated documentation is the first place to start.
Read documentation →
Email Support
Email our support hotline for fast, personal assistance.
Email our support →
Still not sure? Take Aligni for a test spin