Modernize your design infrastructure & improve the way you bring products to market.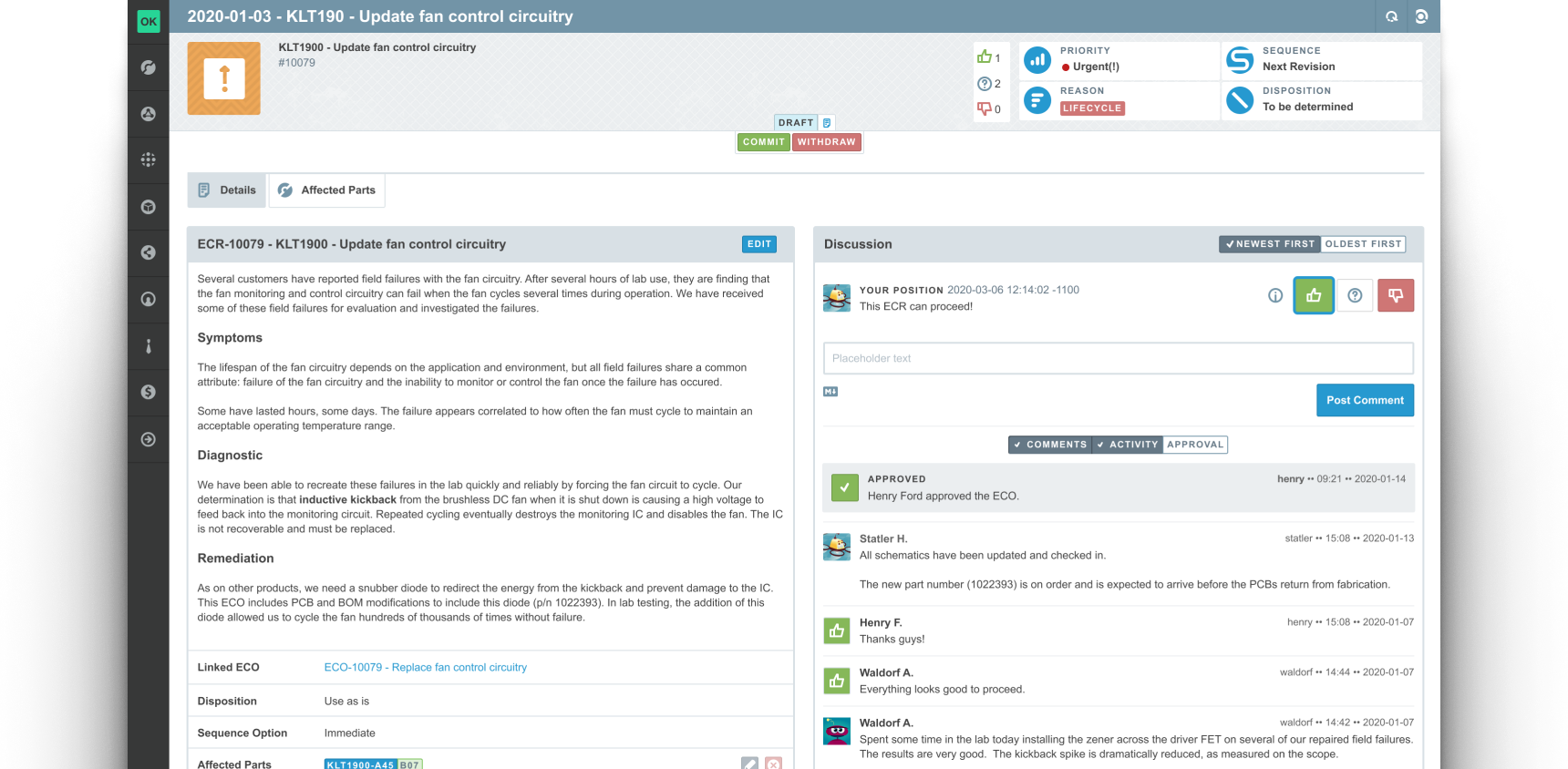 Join 100's of teams that have used Aligni to make great things… better!
One tool, united
Fully Integrated PLM & MRP
Crossing the chasm between design and production is often costly. Maintaining two separate systems is cumbersome and fraught with error and miscommunication. Aligni's PLM and MRP functionalities are built on the same item master so your entire team stands on a firm foundation.

Be adaptable
Build Management
Punch above your weight with world-class build management. Supply chains are tricky and volatile. With Aligni you can quickly adapt to changing conditions and work directly with vendors to avoid expensive line-down situations.

Be informed
Understand Material Shortages
Demand is everything. Customer demand drives production. Production demand drives procurement. Aligni MRP helps you better understand demand so you can make the best possible operational decisions.

STREAMLINED INVENTORY MANAGEMENT
Master Inventory Demand
Aligni's advanced features allow manufacturers to chart out future part and material needs against predicted sales orders, compare purchasing activities and take action before potential shortfalls become big issues – even across a product's entire lifecycle.

Build a better production schedule using informed guidance from Aligni's demand estimator. Smooth out unpredictable demand spikes using the safety stock manager and inventory outlook. Plan better with better tools.
Sign up with Aligni and sign up for success.
Get up and running fast
No sales call. No demo required. Sign up and start working today with Aligni's easy, self-directed onboarding.
Grow with best practices
Baked-in industry-standard processes and sensible defaults help guide you to operational excellence.
Skip the consultants
Aligni needs no costly on-site migrations, shutdowns, or training by specialists and technicians.
Transparent pricing
No hidden commitments or up-front fees. Upgrades and add-ons are available when you want them.
MRP Features
Centralized Part & Specifications Management
Aligni's searchable database stores part and material information including: where parts are used, alternate parts, custom part parameters, documentation & compliance data, as well as BOM placement.
Engineering Change Management (ECM)
Built-in ECR and ECO change management processes that manage part, assembly, version control, and quality aspects to make sure product issues and updates are recorded and handled properly.
Interdepartmental Collaboration
Engineering, supply chain, production, and quality work off the same data system through department-specific interfaces designed for each role. This makes for more intuitive usage and easier system adoption.
Vendor Management 
Manage the purchasing process within Aligni. Connect suppliers to parts and materials needed. Search historical information for analysis including: delivery times, quantities ordered, received quality issues, and pricing details.
Inventory management
Application Integration & Expansion Capabilities
Aligni offers the ability to connect to other software and services as well as built-in API functions. Reduce translation errors and extra steps between related software systems by integrating them with Aligni.
Explore what Aligni can do for your organization
You will be in good company
Basic
$148
Sign Up
Pro
$191
Sign Up
Plan Cost
$148
$191
Collaborator Cost
$50
$61
Collaborator Limit
3
Unlimited
Item Limit
3,000
5,000
Additional items
–
$53 / month / 5,000 items
Open Quotes
3
Unlimited
Inventory Warehouses (max)
3
Unlimited
Additional Warehouses
$9.50 / mo
$9.50 / mo
Active Builds
10
50
Additional Builds
–
$53 / mo
Demand Estimates Limit
10
50
Safety Stock Manager
Yes
Yes
Equipment (Configuration Management)
–
Yes
API
Yes
Yes
Sign Up
$148
Sign Up
$191