Modernize your design infrastructure & improve the way you bring products to market.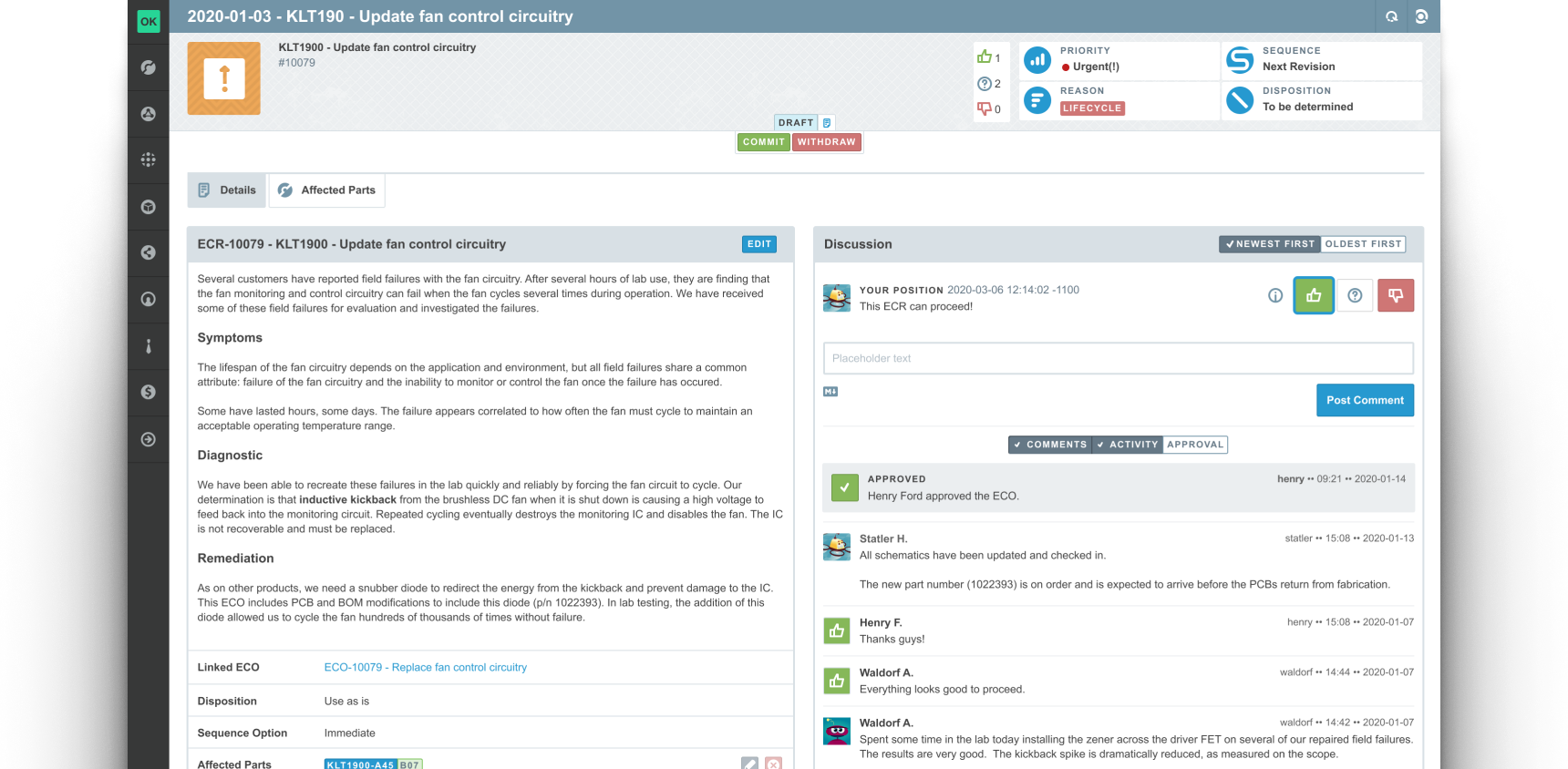 Join 100's of teams that have used Aligni to make great things… better!
There can be only one
A Single Source of Truth
Implement a cloud-based single source of truth for all your electrical and mechanical components. Streamline collaboration, satisfy regulatory compliance requirements, and gain a competitive advantage with improved operational efficiency and faster time-to-market.
Collaboration Everywhere
Modern Collaboration
Today's collaboration tools leverage cloud-based software to simultaneously reduce meetings, improve communication, and build workflows that engage. Your item master is central to your business. Aligni empowers it with collaboration.
Continual Improvement
Embrace Change
Growing businesses embrace change and manage risk. With Aligni's Engineering Change Management, your team can understand changes and gain confidence that everyone is on the same page.
Change is evidence of a growing, thriving organization. It doesn't need to be stressful or anxiety-inducing or covered in red tape. With the right tools, you can manage risk and build confidence in your process.
Sign up with Aligni and sign up for success.
Get up and running fast
No sales call. No demo required. Sign up and start working today with Aligni's easy, self-directed onboarding.
Grow with best practices
Baked-in industry-standard processes and sensible defaults help guide you to operational excellence.
Skip the consultants
Aligni needs no costly on-site migrations, shutdowns, or training by specialists and technicians.
Transparent pricing
No hidden commitments or up-front fees. Upgrades and add-ons are available when you want them.
PLM Features
Centralized Part & Specifications Management
Aligni's searchable database stores part and material information including: where parts are used, alternate parts, custom part parameters, documentation & Compliance data, as well as BOM placement.
Engineering Change Management (ECM)
Built-in ECR and ECO change management processes that manage part, assembly, version control, and quality aspects to make sure product issues and updates are recorded and handled properly.
Interdepartmental Collaboration
Engineering, supply chain, production, and quality work off the same data system through department-specific interfaces designed for each role. This makes for more intuitive usage and easier system adoption.
SaaS-based security and data storage
Cloud-based security and automatic data backups all through Aligni. No need for physical servers, maintenance, or qualified professionals to manage on-site systems or perform backups.
User Management
Flexible role and permission assignment for customized access to processes and data as needed. Keeps ownership of tasks in qualified hands while reducing potential for accidental data or operational changes.
Application Integration & Expansion Capabilities
Aligni offers the ability to connect to other software and services as well as built-in API functions. Reduce translation errors and extra steps between related software systems by integrating them with Aligni.
You will be in good company
Lite
$31
Sign Up
Basic
$84
Sign Up
Pro
$105
Sign Up
Plan Cost
$31
$84
$105
Collaborator Cost
–
$29
$39
Collaborator Limit
–
3
Unlimited
Item Limit
1,000
3,000
5,000
Engineering Change Management
Yes
Yes
Yes
Active ECR
1
Unlimited
Unlimited
Active ECO
1
Unlimited
Unlimited
Inventory Warehouses
1
1
1
API
–
Yes
Yes
Sign Up
$31
Sign Up
$84
Sign Up
$105